Here at Youngish Quilters we're focussing on the theme Mend. Over the summer we're going to explore this theme in all sorts of different ways. Today we have a wonderful sewing tutorial to share with you. Have a go at making a Snack Pouch, taught by Gill Towell. Sewing is a fantastic way of improving and 'mending' your mental well being, and even better, this project is helping us mend and save the environment. No need for one use plastics for your picnics and packed lunches, this snack pouch has a waterproof lining so can be washed and re-used again and again. Read on to find out more….
Make a Snack Pouch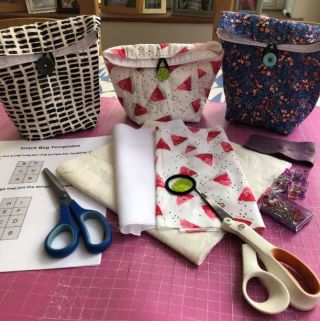 Have a go at making this handy snack pouch for your tasty treats on the go.
Thanks to Gill Towell for presenting this video and to The Ashley Family Foundation for funding this project.
Click here to watch the video tutorial
Templates can be found on our Young Quilter website
Enjoy sewing, textiles and being creative? Did you know that Young Quilter membership is free?
Anyone aged 5 to 18 can join, click here to find out more!
There are loads of benefits to being a Young Quilter including exclusive access to more video workshops like this one 🙂